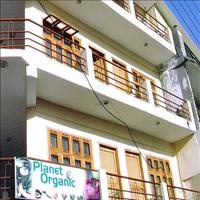 Address: Topovan Opp. Laxman Temple, Shivananda Nagar
Place: Rishikesh, India - Zip / Pin Code: 249201

Description: Hotel Hemkund Basera, situated on the bank of Holy river Gnaga, a popular destination among Hotels and Resorts at Rishikesh, with an extra touch in style, comfort and service. Lies along this country's beautiful Northern Region of Himalayas, a privileged location with panoramic breathtaking views of Ganga, offering an extensive variety of services. Over the years Hotel Hemkund Basera has defined a benchmark of fine living and has expressed high standards in the art of hospitality in Rishikesh. It has retained the spirit and charm of the traditions of India and has blended these with the latest technology that the industry has to offer.
Total Rooms: 32
Room Facility: Each of the rooms are delightful, decorated including air conditioner/air cooler. Rooms with different tariffs are decorated beautifully and well furnished with fine fabrics and have curved rose wood furniture.
Room Service: 24 hrs
Other Facility: Room service, Wall to wall carpet, Cable TV, Telephone, Attached bath running Hot & cold water, Elevator, Travel counter, Raffting, Yoga, Doctor on call.
Others: All major credit cards accepted.
Location Advantage: 5 minutes walk for Triveni Ghat.
Access Airport: 18 kms. from Airport
Access Rail: 26 kms from Railway Station