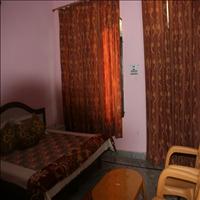 Address: Badrinath Road, Old RTO Check Post, Tapovan
Place: Rishikesh, India - Zip / Pin Code: 249192

Description: Rishikesh Sadan at Rishikesh, just 250 kms from New Delhi. It is situated at Tapovan , just 10 mins walking distance from Laxman Jhulla & just on the right of waterfall stream. This amazing hill beauty is located in the laps of lower Himalayas, this place is considered to be the access point of three other pilgrim places of Badrinath - Kedarnath, Gangotri and Yamunotri the four great places which combine to make Chard ham . Rishikesh is surrounded by scenic beauty of the hills on three sides with Holy Ganga flowing across giving soothing natural beauty experience. Rishikesh Sadan is Spiritual and Rejuvenation Centre in the World Yoga Capital Rishikesh. Rishikesh Sadan is situated in the valley surrounded with majestic mountains, deep forests and natural spring. Rishikesh Sadan is offering 11 Valley facing Rooms with open balcony and terrace. The Day starts with traditional Yoga & Mystery Meditation classes with every day new techniques to revejuenate your soul. Ayurvedic massages and therapies to keep you physically fit followed by Sattvic aesthetic food. Outdoor Adventure activities like Rafting, Cliff Jumping, Rock climbing and Bungy Jumping to improve your self confidence and Jungle walk to experience the nature at its best. So, we welcome you at Rishikesh Sadan, Just drop yourself to us for a new being. Rishikesh Accessibility Train : There are Different trains in a day between Delhi to Haridwar & Haridwar to Delhi, but the best Train Shatabdi, which leaves New Delhi station at 7:00 am and reaches Haridwar at 11:15 am. Another One is the Jan Shatabdi which leaves New Delhi at 3:30 pm in the afternoon and reaches haridwar at 7:20 pm in the evening. There are other trains as well but Shatabdi & Jan Shatabdi Trains are the best and fastest. Pick up & dropping services are provided on Request. Road : Rishikesh is well connected by motorable road with most place of North India. From Delhi – 230 Km. Rishikesh (Railway Station) – 3.5 Km. Rishikesh (Bus Stand) - 3.5 Km. Haridwar (Railway Station) – 25 Km.
Total Rooms: 10
Room Facility: -Attach Bath -Basic Amenities
Room Service: Vegetarian Food Only
Other Facility: Free Yoga classes
Others: As per special request - Only Vegetarian Food
Access Airport: Nearest - Jolly Grant Airport which is well connected with all major Metros. Airport is 22 kms from Resort.
Access Rail: Nearest Railhead is Haridwar - 30 Kms which is well connected with all major cities of India