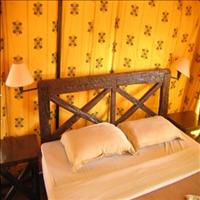 Address: Vithaldas Vaddo,Morjim,Pernem,Goa
Place: Goa, India - Zip / Pin Code: 403512

Description: Montego Bay Beach Village - lies across the chapora river and fort, along the north Goa coastline on a beautiful secluded beach called Morjim. The beach is popularly known as Turtle Beach where the famous Olive Ridley turtles lay their eggs. The nesting site is protected by the forest department of the Government of Goa and there are also ample opportunities for avid bird watchers. Montego Bay Beach Village is situated 30 minutes away from the Capital City of Goa, Panjim and is 15 minutes away from Calangute. The facilities at Montego Bay Beach Village take you back to nature withits log cabins and luxury tents spaced over 100,000 sq. feet in a beautiful coconut grove bordering the sandy Morjim coast line. The tents and the log cabins have attached baths and western toilets. Wake up to the melodious notes of chirping birds as our luxury tents and log cabins are surrounded by the natural beauty of flora and a rich variety of bird life. This atmosphere makes Montego Bay Beach Village a charming ocean front property offering great value. It is an ideal gateway resort for couples and families. It is a ideal universal Wedding destination ( Beach Weddings ). Montego Bay Beach Village has a full fledged restaurant serving Continental, Indian, Seafood and the local Goan Cuisine. The restaurant is open for breakfast , lunch and dinner.
Total Rooms: 24
Room Facility: Each log cabin has been created keeping in mind our guests needs and comforts. The aesthetically designed living areas inspire and enhance the spirit, mind, body Luxuary tents are fully furnished with electrical fixtures and have attached toilets. The interiors of each tent differ from the other. AC Rooms The AC Rooms are in an old Architectural house with all attached for toilets with a huge connected Balcony which over looks the sea. The beach house is about 100 years old. Its in the centre of Montego Bay beach village, overlooking the sands and the sea of Morjim. Consists of large balcony, living room, bedroom, kitchen and a toilet. An ideal place for a family of four
Room Service: 8.30 a.m. till 11 p.m.
Other Facility: Laundry Service • Restaurant: 'By the Bay' open from 8 am to12 midnight • Television at the TV room • Internet access • Taxi Service • Bikes on hire • Airport and railway transfers at reasonable rates • Card games and Board games like chess, Scrabble and Monopoly
Others: Night Markets • Flea Market in Anjuna (transport provided at reasonable rates)
Location Advantage: Montego Bay Beach Village is situated 30 minutes away from the Capital City of Goa, Panjim and is 15 minutes away from Calangute
Access Airport: 25 kms
Access Rail: 25 kms