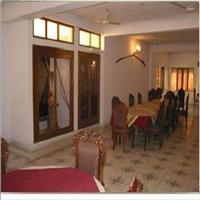 Address: Kalyan Path, Police Memorial, Narain Singh Road.,
Place: Jaipur, India - Zip / Pin Code: 302004

Description: Hotel Santha Bagh, a hotel that has a long list of satisfied customers. It is managed by the family. Hotel Santha Bagh is placed in the most peaceful of greener environments of the city of Jaipur. With easy accessibility & strategically located, it serves its customers with personal touch of hospitality. Originally a farm house of the Santha family which trace its lineage to the Champawats of the Peelwa Thikana of Jodhpur, Santha Bagh has now been converted in hotel. The present Thakur of Santha, having served in the State Hotel Services and as the Comptroller of the Governor's household now extends his hospitality to all the guests of Santha Bagh. Hotel Santh Bagh promises you a luxurious and peaceful stay promising you a time that would made make you want to come back & enjoy its hospitality again.
Total Rooms: 20
Room Facility: Luxurious Deluxe air-conditioned rooms, Executive Air-conditioned rooms & Air Cooled Room for the guests at the Hotel. Room facility includes colour Televisions (with satellite channels) &. The attached bathrooms are compact with hot & cold running water. Hotel Santha Bagh surpasses your dreams of perfect Hotel.The rooms are furnished keeping in mind the comforts of the modern traveller.
Room Service: Room service available in the hotel.
Other Facility: We believe that customer's satisfaction is the real reward for us. We take great care of our customers, and make them feel as comfortable as we can. In our restaurant the dishes prepared have a distinct aroma and taste, making your experience a most memorable one. We welcome you to enjoy flavors which are as varied as the climate of India and as exotic as the people of India.
Location Advantage: Our Hotel is centrally located and close access to all central, State Govt's offices, Main Markets & Business Centers.Situated 6 Kms.. from Jaipur Railway Station, Hotel Santha Bagh is placed in the more peaceful and greener environs of Jaipur city, with easy accessibility. Strategically located, Hotel Santha Bagh promises you a luxurious and peaceful stay.
Access Airport: 10 kms Jaipur Airport
Access Rail: 6 kms from railway station.