Orchha
The kingdom lost in Obscurity.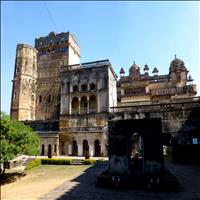 The Fort Complex is the main attraction of Orchha, it is located on an island on the Betwa River. There are three main palaces within the complex: Raj Mahal, situated on the right of the quadrangle. There is the Jahangir Mahal, built elaborately in commemoration of the Empwroe Jahangir. The final palace is the Rai Parveen Mahal, built in the name of the poetess and the musician whose love story is outstanding. The Orchha Fort is the center of the Orchha heritage and the narrator of the glorious past. An interesting thing about this place is that, Lord Rama is not considered as God like in the other parts of the country. They worship him as a great king. Best time to visit the complex is during the winter season, when the temperature decreases.

Timings: 0800-1800 hrs

The Ram Raja Temple is a temple in Orchha, Madhya Pradesh, India. It is a sacred Hindu pilgrimage and receives devotees in large numbers regularly and is also commonly known as Orchha Temple. The annual domestic tourist number is around 650,000 and the foreign tourist number is around 25,000. The daily number of visitors to the temple range from 1500 to 3000 and on certain important Hindu festivals like the Makar Sankranti, Vasant Panchami, Shivratri, Ram Navami, Kartik Purnima and Vivaha Panchami the number of devotees who throng to Orchha range in thousands. In India this is the only temple where Lord Ram is worshiped as a king and that too in a palace. A Guard of Honour is held everyday, police personnel have been designated as Guards at the temple, much in the manner of a king. The food and other amenities provided to the deity at the temple are a royal repast. Armed salutation is provided to Lord Ram every day.
In the temple Raja Ram is accompanied by Sita (on the left), brother Laxman (on the right), Maharaj Sugreev and Narsingh Bhagwan (on the right). Durga Maa is also present in the darbaar on the right side. Hanumaan ji and Jamwant ji are praying just below Sita. The speciality of this temple is that Lord Ram has a sword in his right hand and a shield in the other. Shri Ram is sitting in Padmasan, with the left leg crossed over the right thigh.